| | |
| --- | --- |
| | COURSE For Engineering Students / COLLEGE Students |


PROGRAM DETAILS:
There are different programs available in Industrial Training in VLSI Design. Students can choose the programs they are inclined to pursue.
Title
Module
Introduction to VLSI

VLSI Design Flow
ASIC Vs FPGA
RTL Design Methodologies

Fabrication of MOSFETs

Introduction
Fabrication Process Flow
Layout Design Rules

MOS Transistor

The MOS Structure
Structure and operation of MOSFET
MOSFET current and voltage characteristics
MOSFET scaling and small geometry effects

MOS Inverters : Statics characteristics

Introduction
Resistive Load Inverter
Inverters with n type MOSFET load
CMOS Inverter

MOS Inverters: Switching Characteristics and interconnect Effect

Introduction
Delay Time Definitions
Calculation of Delay Times
Inverter Design with Delay constraints
Estimation of Interconnect Parasites
Calculation of Interconnect Delay
Switching Power Dissipation of CMOS inverters

Combinational MOS Logic Circuits

Introduction
MOS Logic Circuits with Development nMOS Loads
CMOS Logic Circuits
Complex Logic Circuits
CMOS Transmission Gate (Pass Gate)

Concepts

Introduction
Behavior of Bistable Element
Voltage Bootstrapping
Synchronous Dynamic Circuit Techniques
High Performance Dynamic CMOS Circuits

Semiconductor memories

Introduction
ROM circuits
SRAM circuits
DRAM circuits

Low power CMOS logic circuits

Introduction
Overview of power consumption
Low power design through voltage scaling
Estimation and optimization of switching activity Capacitance
Adiabatic Logic Circuits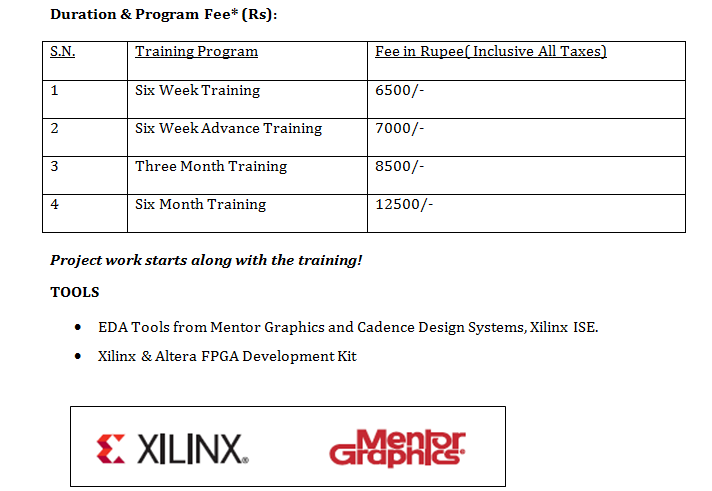 BENEFITS FOR THE STUDENTS
This course will provide you a design level understanding of VLSI and VLSI CAD Tools.
It provides opportunities to utilize the available resources to implement live projects.
Enhances the Skill-Set in your resume for better placement prospects
Build your confidence through hands on exposure to various tools & technologies.
It helps in Keep pace with Industry Developments.