| | |
| --- | --- |
| | Course Module for PCB Design |

INDUSTRIAL TRAINING ON PCB DESNIGN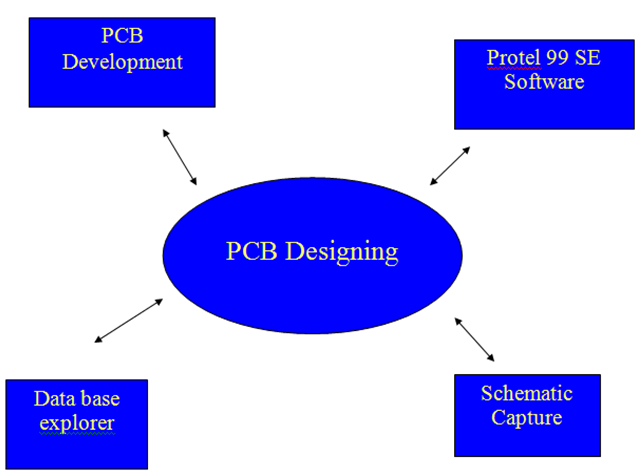 PROGRAM DETAILS:
This training will help you to be a part of Electronics Project Team and those who are involved in Electronics Projects All Alone. PCB Design course may help you to get a better JOB opportunity and JOB switchover. There are different programs available in Industrial Training in PCB Design. Students can choose the programs they are inclined to pursue.
Title
Module
Lab
PCB design process

Introduction of PCB Design

PCB Editor workspace

PCB Material.
Using the PCB Editor panel.
PCB Editor Preferences.
Board Options dialog.
Board Layers and Colors.
Grids.

Introduction ofor cad tool and manufacturing process
Schematiccreation.
Symbol creation

Browsing footprint libraries

Introduction to Library Design.
IPC standards in Foot print design.
Pad Design.
Foot print design.

Introduction of tools.
Footprint creation.
IPC standards.

Creating a new PCB.

Creating the Blank PCB.
Defining a sheet template.
Defining the Board Shape & Placement Boundary.
Exercise – Creating a board outline & placement / routing boundary.

Transferring design information to the PCB.

Design synchronization with schematic tool.
Resolving synchronization DRCs.
Design transfer using a Net list.
Exercise – Transferring the design

Schematic DRC.
Bill of material.
Net list.
Basic steps for layout.
Guidelines of layout.

Setting up the PCB layers.

Enabling Layers.
Layer definitions.
Defining the Electrical Layer
Defining Mechanical layers.
Defining PWR/GND layers.
Exercise – Setting up layers.

Design rules and design rule checking

Adding design rules in constraints manager
Design rules concepts.
How rules are checked.
Where rules apply.
Constraint region setting
Exercise – Setting up the design rules.
Design Rule Checking

Constraint settings.
Electrical.
Physical.
Spacing.
Same net spacing.
Design rules check in pcb

Component Placement tools.

Placing components.
Finding components for placement.
Moving components.
Interactive Placement commands.
Re-Annotation.
Placement Considerations – [Mechanical – Thermal – Electrical – Assembly].
Exercise – Component Placement.

Guide lines of placement.

Routing

Routing topologies and PCB Routing Considerations.
Single Ended.
Differential routing ( Design Considerations).

Routing types.
Routing guidelines.
DRC (Design Rule Check)

PCB Layout and Grounding.

Discontinuities and other higher order mode effect – bend, vias, pads, connectors.
Basic layout rules.
Basic grounding rules.

Shielding.

Shielding Effectiveness.
Shielding Practices.

Output Generation and Documentation

Creating a new Output Job file.
Setting up Print job option.
Setting up Print job options.
Creating CAM files.
Running the Output Generator.
Drawing Requirements.
Assembly Drawing.
Master Drawing.
Exercise – adding an Out Job file to the project.
Duration & Program Fee* (Rs):

Project work starts along with the training!
TOOLS:
PROTEL 99 se
CAMTISTIC 2000
BENEFITS FOR THE STUDENTS
Be familiar with the computer aided design software package.
Be capable of using the software to produce a schematic and layout diagram from a given circuit diagram.
Be familiar with of the relevant industrial process to transfer the design to a copper clad board and produce a bare printed circuit board.
It develops an awareness of the various finishing processes involved in producing the finished PCB.
Enhances the Skill-Set in your resume for better placement in Electronics Industry.